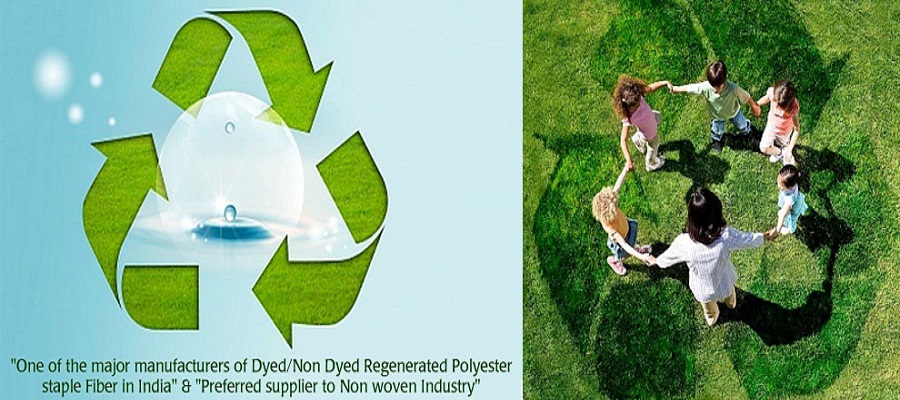 Overview
We are the leading ISO 9001:2008 certified company manufacturing high end Recycled Polyester Staple Fibre (PSF) ranging from 4-40 Deniers in various colours and different cut length as per customer specification.

Established in 1997 with collaboration from South Korea, the plant uses the state of art technology to recycle polyester/PET waste in to the Polyester Staple Fibre.

We manufacture various type of fibre like silicon & non-silicon in Flame Retardant or UV grade. colours fibre are made with DOPE dying technology using high quality pigments, dyes and master batches. The colour fibre produced with this technology has very homogeneous texture and high colour fastness. There is no water and air pollution with this technology.

We are also manufacturing Polypropylene Staple Fibre (PPSF) in our another sophisticated plant collaborated with China.

We also manufacture Polypropylene (PP) Spun bond Non Woven Fabric used for packaging in various colours and GSM ranging from 10-200.

We have recently started manufacturing Artificial leather/ PVC vinyl, using the 'Release Paper Transfer Coating Technology' with a installed capacity of 4 million linear meters per year, through our state of the art coating line designed in Italy manufactured in India.

Our synthetic leather line is around 100M long and is capable to manufacture Leather at high speed. We also have off-line printing and embossing machines to give endless possibility of shades and pattern

We also trade Coal for Industrial Use having link with BCCL & Coal India Limited. We also trade in imported coal.

We are on a Mission to provide best quality product with timely delivery to our customers. We have a policy of zero defect in product and zero effect to environment.

We have a Vision to provide full bouquet of fibre products to our customer under one roof.
Infrastructure
The manufacturing facilities is situated at Industrial Town of Gajraula, Uttar Pradesh, India which is 100km from Delhi on National Highway No 24.

The state of art manufacturing facilities coupled with strong systems in place is well managed by the team of professionals. We are well versed to cater to clients in all domains in India as well as abroad.

Our quality system has been checked by TUV management services to be in accordance with ISO 9001:2008. We do quality checking with high end equipments, managed by well experienced quality professionals having more than 20 years experience give the company enough leverage to compete and pass stringent quality standards set by the Industry it is catering to.

We are supplying colour fibre to various non woven carpet manufacturers who are OEM of major auto mobiles company like Suzuki, Toyota, Honda, Hyundai, Volkswagen, Ford etc.

We have four different lines for producing PSF/PPSF having total installed capacity of 1500T/month. We can quickly develop new shades and minimum lot size can be as low as 5T. We have captive power generation for 3MW and UPS capacity of 1MW for uninterpreted power supply

To maintain quality standard we have our automatic pet flakes washing line with effluent treatment plant with zero discharge.
Exports
We are currently doing exports of Polyester staple fibre and Polypropylene staple fibre to countries like Netherlands, Belgium, Portugal, Colombia, Uruguay, Czech Republic, Italy, Nepal, USA, Germany, Iran, Bangladesh, Spain, Mexico, Indonesia, Turkey, Egypt, Peru, France, Morocco, El Salvador, Ecuador, Noland, Finland
Please see our detailed plant video presentation below
Our Products